The Holidays are coming up fast and I wanted to share a few of my designs that could make really great and unique gifts for your friends and family this season!
Stocking Stuffers
Socks make excellent stocking stuffers since they're small and nice to wear on Christmas morning.  These Wine, Coffee, Cats themed socks are funny and cute!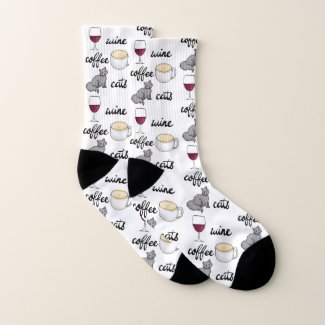 Wine Coffee Cats Socks from Zazzle
Find more sock designs in my Zazzle store.
Stickers are a super fun gift because they can be stuck on just about anything!  They also fit nicely into a stocking.  This Rose Gold Mandala sticker is one of my best sellers.  Redbubble often runs promotions on stickers so f you buy more than 1 you will get a discount. They usually throw a free one in to your package as well!
Find more stickers in my Redbubble store!
Getting them a new phone for Christmas?  Stuff their stocking with a brand new  case to match!
Blue and Gold Flower Mandala iPhone X Case
Find more cell phone cases in my Society6 store!
Under the Tree
Tapestries from Society6 or Rebubble are very versatile gifts.  They can be used as wall art, a light bed sheet, a beach blanket, a youtube video backdrop, and more!
Find more Tapestries in my Society6 store!
Tops.  Everyone can use a beautiful new blouse for Christmas!
Blue and Gold Mandala Pattern Contrast Tank Top
Find more Contrast Tank Tops in my Redbubble store!
Leggings are another awesome gift. They are fun to lounge around in on Christmas Day but can also be worn while working off all those excess calories!
Find more leggings in my Zazzle store!
Throw blankets to keep your friends and family cozy and warm all winter long.
Find more throw blankets in my Society6 store!
Pillows add a pop of colour to any space and make the room instantly cozier.
Flip Flop Pop Art Throw Pillow
Find more throw pillows in my Redbubble store!
Mugs are another great gift that can be used on Christmas morning and will remind the receiver of you every time they use it!
Be Still and Just Breathe Coffee Mug
Find more coffee mugs in my Zazzle store!
That's all the gift ideas I have for you today!
Be sure to keep an eye on the sales and promo codes on Redbubble, Society6 and Zazzle because they are all having some really great deals in the next few weeks.
I hope you'll find something here to inspire your gift giving this season, and enjoy the Holidays!
Cheers,
Julie