Well I never expected my trip to Paris would end in such a terrible way. I had an amazing time up until about 10 pm Paris time on Friday, November 13th when the terrorist attacks began.
The only way I can describe it as was very confusing and scary.  We were actually at a bar very close to where some of the attacks occurred, watching the soccer game, and had to leave via an emergency exit in order to return to our rented apartment.
We made it out of the city around 5 am that morning to catch our scheduled flight home and luckily made it through the enormous security line at the Charles de Gaulle airport.
I feel very lucky to have made it home safely and feel terrible for all those who didn't 😦
Since I wasn't able to sleep well after I got home due to the time change, I worked on creating some prints from my photographs of the Eiffel tower.  I have a ton more photos to share but they will have to wait until later.
This is one of a few different versions I have made: It is a black and white night time photograph of the Eiffel tower with the words "J'aime Paris" layered over top.
It is available as a print and more in my Society6 store currently. These could make great gifts for anyone who loves Paris!
J'aime Paris Throw Pillow $20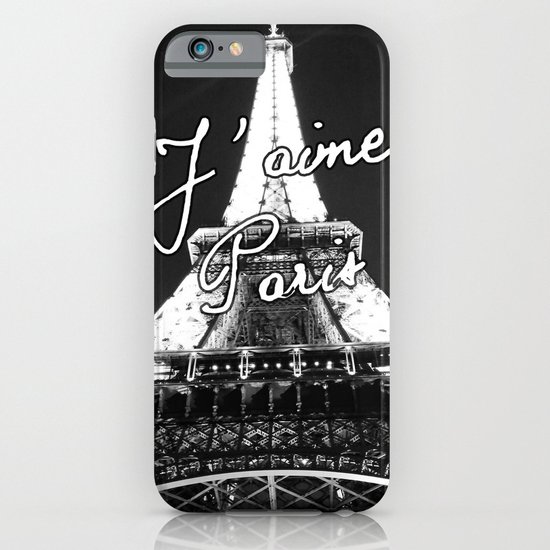 J'aime Paris Iphone or Samsung Case $35
J'aime Paris Framed Art Print $42
J'aime Paris Wall Clock $30
There are plenty more products in my shop bearing this image so check them all out!
I hope you've all had a safe weekend.
Cheers,
Julie